If you think that genuine & original artwork can only be found in art galleries or art exhibitions then you are absolutely wrong, as online art galleries have widened the horizons for art admirers and talented artists. An art lover can attend art exhibitions that happen in his city, but attending art exhibitions in other cities can be tough. Artists, especially the emerging talented one also face a problem since they may not have the right set of contacts to exhibit their paintings in an art exhibition. Online art galleries are bridging this gap for the art-buyers and artists.
The biggest advantage of selling art online for an artist is that he can focus on art; he doesn't have to run from one gallery to another to show his work. There is also a pricing advantage since there are no overhead costs that are involved with physical art galleries. I recommend some of the top online art galleries for buying & selling art, listed below
1. Gallerist.in
Gallerist.in is an India based online art gallery has more than 22,000 artworks ranging from Rs. 1,000 to Rs. 4 crore. There is more than 10,000+ artist who has registered on the platform. Their artist base & customer base is growing multi-fold because it only sells original paintings & drawings. To protect the authenticity of artwork, Gallerist provides a certificate of authenticity to the art buyer, signed by the artist.
By the date of publishing this article, Gallerist.in had more than 125 ratings & reviews with  4.8 average rating on third-party platform like Google & Trustpilot, which is highest in the industry.
The art representation on Gallerist is quite unique in the form of techniques like Art on Wall, 3d Art Gallery, and Galaxy of Paintings. There is a vast collection of paintings on Gallerist; the most famous ones are Buddha, Radhakrishna, Lord Shiva & Ganesha, Nature, Abstract, Modern, Madhubani & Warli,  made up with Watercolor, Oilcolor & Acrylic colours. Apart from paintings, the Gallerist also sells authentic drawings, beautiful wall posters, and wall painting stencils. Top of all, the artwork gets delivered to the customer within 3 to 10 working days. This kind of unique experience can only be witnessed by buying paintings online from Gallerist.in
World Art Community is an online marketplace selling Art. With selling art to buyers they are also based on the peer-to-peer (P2P) model where World Art Community works as an online forum for artists & designers to showcase their work which can directly be purchased by the prospective clients.
Apart from paintings in different categories like Nature Paintings, Mordern Art Paintings, Figurative Paintings, Acrylic paintings, Oil paintings, Mixed media paintings, etc.; the company also sells apparel, home décor, accessories for men & women. In a nutshell, World Art Community is more like a platform for any kind of artistic creations; whether it is paintings, drawings, photography, etc.
3. ArtZolo.com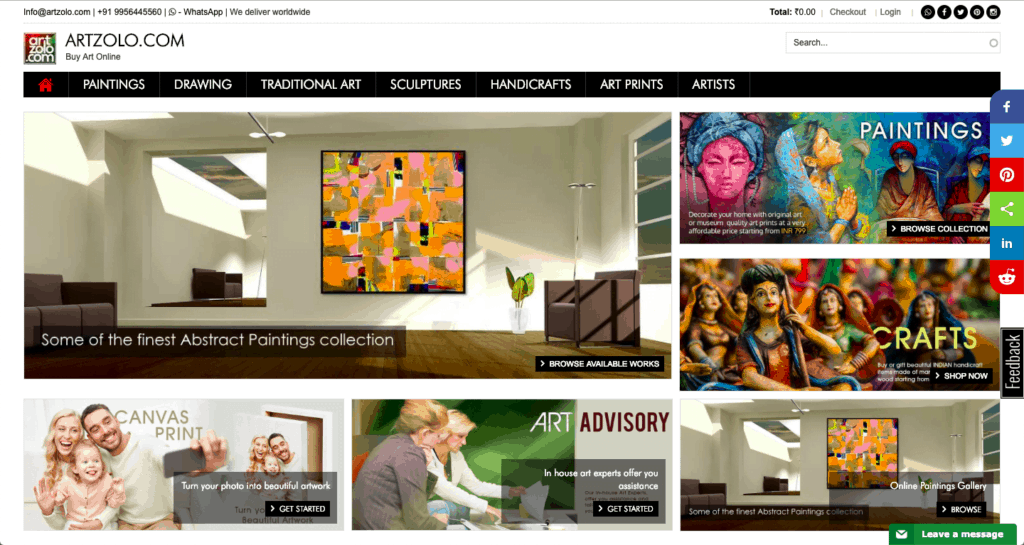 ArtZolo is an online art gallery bridging the gap between art buyers & artists. The company is located in Kerala,  India. On ArtZolo, you can buy paintings from genuine artists. Cityscape paintings, Couple paintings, Figurative paintings, Religious paintings, Indian paintings, Nature paintings, etc. are some of the popular types of paintings available on the platform.
You can also buy paintings for your home or office from Artzolo. Apart from drawings & paintings, the company also houses a good collection of Traditional art, sculptures, Handicrafts, Art prints, etc.
Artzolo also provide corporate gifting solution.
4. Fizdi.com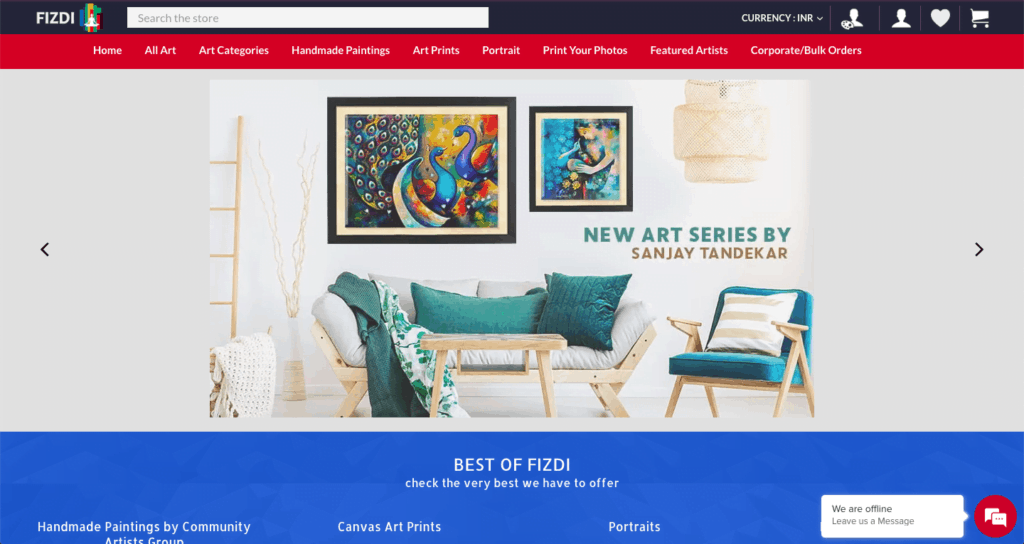 Fizdi is a growing online art gallery where consumers can buy affordable hand painted art online at very good price. They have an artist with the name Community Artist who sells paintings at a very good price.
With Fizdi, artwork can be recreated in multiple sizes on customer's demand. However, the only downside is that the platform does not promise originality of artwork which can be a big letdown for customers.
Like other art galleries, you can purchase different types of paintings e.g. Landscape paintings, Radha Krishna paintings, Ganesha paintings, Figurative Paintings, etc. from Fizdi.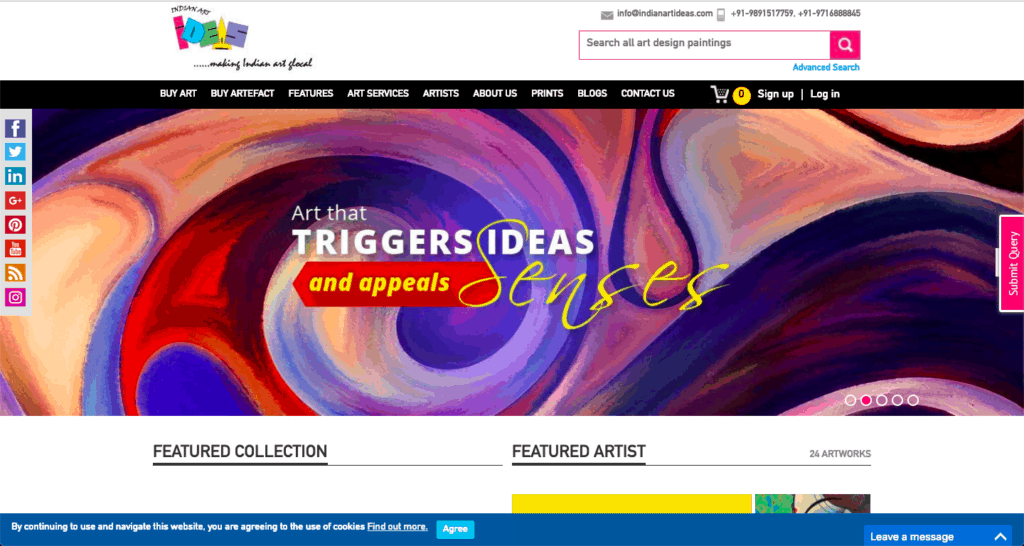 Indian Art Ideas is also an online art gallery having a number of talented artists on their platform. Apart from paintings & drawings from artists who are present on the platform, the company also provides art expert services for their customers.
You can buy Abstract paintings, Landscape paintings, Folk art paintings, Still life paintings, etc. from Indian Art Ideas. In case you are confused about how you should go about decorating your new home/office/room; you should check out the Expert Art Advisory section on their website.
It also has a personalized art section where they provide custom portraits, Photos to Art & Customized art.
6. Art4u
Art4u is an online art gallery that has B2C and B2B business verticals. In the B2B program, the company ties-up with interior designers, gallery owners, business owners, and designers to simplify the problem of art discovery. If you are planning to decorate your home, Art4u offers different kinds of artwork for kids room, drawing room, bedroom, dining room, gaming room, etc.
If you are a business owner, you should have a look at some of the artwork available for home-office. There is no clear information about the artists that have a tie-up with Art4u which may a major disadvantage since art buyers & art enthusiasts always want to own original artwork.
These days online art galleries are slowly & steadily becoming one of the major avenues for buying & selling art online, something that wouldn't have existed without the power of the internet.