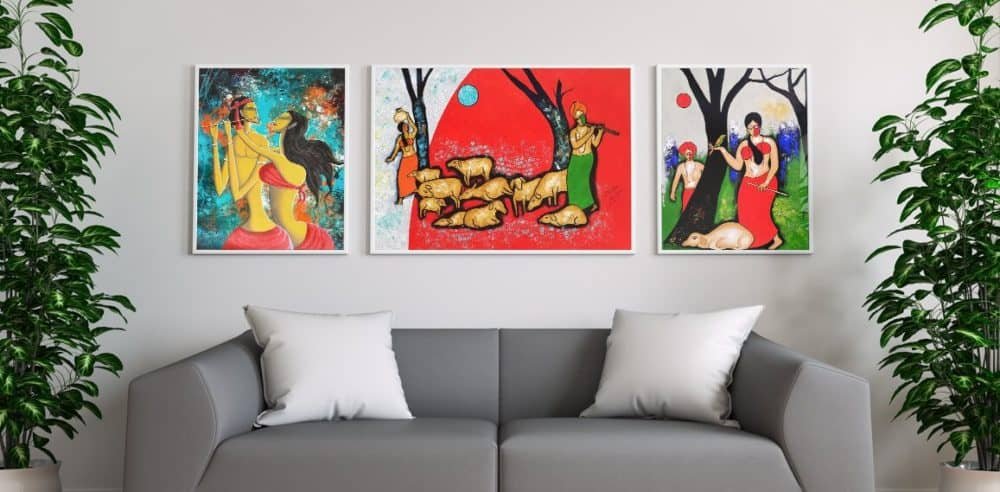 Buying an original painting or drawings online these days is not at all difficult now, when you have multiples online art galleries available on your fingertips. Online art gallerist like Gallerist.in, Fizdi.com, Mojarto.com have not only helped artists to come & exhibit their paintings online, but also giving a wide range of options to buyers to scroll through & buy authentic artworks online sitting at home.
I really praise these galleries to bring in Indian Art on their platforms from every corner of India. These online art galleries are also helping artists to exhibit their artwork & showcase to the world. An artist need not be a part of long wait lists now, unlike brick & mortar art galleries.
I have done a detailed analysis of all such galleries for you to choose the right one suiting your requirement when you think of decorating your house with original paintings.
Gallerist.in was started in the year 2014 with an objective of exhibiting art from every corner of the world. This platform has original paintings collection of more than 15,000 created by 5,500 artists world wide. Most of the artists are from India only.
They have a great collection in categories like Radha-Krishna paintings, Modern Art, Buddha Paintings, Animal & Nature Paintings.
Gallerist.in also has Canvas Art Prints, which I believe a very good option if you are looking for bigger art at a lower cost. Printing on Canvas gives you an original art feeling. When I spoke to them they assured me 10-15 years of the life of these high-quality prints.
Surprisingly Gallerist has 5-10% low price than other platforms on same paintings. I don't know how they manage it but yes it's a good news for buyers.
Art prices range from Rs. 560 to Rs. 49 crore
Mojarto was founded in 2005 focusing on the objective of bringing together artists, collectors, dealers, galleries, and resellers onto a single powerful online platform. If you want to buy premium paintings then Mojarto is the right place. They have an amazing collection from all top artists of India. Mojarto was bought by NDTV a few years back & has heavy investments.
Mojarto sells a verity of arts including Paintings, Fine Art Prints, Photographs, Sculptures, and Handcrafted Jewellery. Mojarto also provides art advisory.
Art prices range from Rs. 4,000 to Rs. 1.12 crore
Fizdi has more than 25,000 artworks created by 5,000 artists worldwide. They have a strong customer base of around 15,000 from India & other countries. Fizdi.com started their journey in the year 2009 with an objective of making modern, high-quality artworks accessible to everyone at affordable rates.
If you are looking out painting with frames, Fizdi would be a great choice! Paintings from an artist group known as 'Community Artist' on Fizdi.com are great in quality & price. Fizdi also offers portrait online feature.
Fizdi prefers concentrating on paintings & not selling any other form of art on their website yet.
Art prices range from Rs. 720 to Rs. 5 crore
ArtZolo is an Art marketplace that connects the art lovers. Artzolo sells online Paintings, Drawings, Sculptures, handicraft & Art Prints. They also provide art advisory.
If you have any corporate requirement like gifting art to your employees, you can contact Artzolo.
Artzolo has a good collection of Modern Art Painting. You can also look at the sculpture & handicraft section.
I am intentionally adding this website keeping in mind your choice for international artwork. Saatchi is a world-renowned online art selling platform known for selling paintings, drawings, sculpture, photography & Art Prints. Saatchi is based in Los Angeles, USA.
Don't forget to share your thought & help me in improving this article further.